Luke Patzek, E-4, Logistics Specialist Third Class in the U.S. Navy Reserves and general manager of Tradesmen's Clark, NJ office
Joseph O. Wesley retired from the Army during a recession in 1982. Unable to find work as a heavy equipment operator, he used skills learned in the military to open a small electrical contracting business in Cleveland, Ohio. Joe took on any project to get by, completing each to perfection as if it were to be scrutinized by his former commanders. His business grew as a result, and so did the challenge of finding qualified electricians to meet his fluctuating workload on projects around town.
This problem led Joe to found one of the nation's first skilled trade-focused, veteran-owned staffing services, Tradesmen International. 25 years later, the company – now owned by The Blackstone Group – has local recruitment and operations facilities in every major port city in the United States. Overall, combining its shipyard and commercial construction operations, the company has 171 offices that support shipyard construction, repair, retrofit and decommissioning projects on coasts, lakes and rivers throughout North America. The company regularly keeps more than 10,000 maritime and commercial trade employees working on leading shipbuilders and contractor's projects daily – a true veteran success story.
"Our company has always welcomed former members of the military onto our marine and commercial staffing teams," said Matt McClone, Tradesmen International's VP of Workforce Development. "We're proud that nearly 10 percent of our workforce is made up of employees who have served our country."
"Our client supervisors – from the largest coastal yards to small repair yards on rivers – consistently tell us our veteran trade and sales employees are among Tradesmen's best," said Chad Arnold, Tradesmen's Vice President, Marine Division. "There's no doubt in my mind that this is true. These individuals bring with them daily a heightened emphasis on safety, productivity and craftsmanship, whether working on U.S. naval vessels or shallow-water barges."
Recruiting veterans for workplace success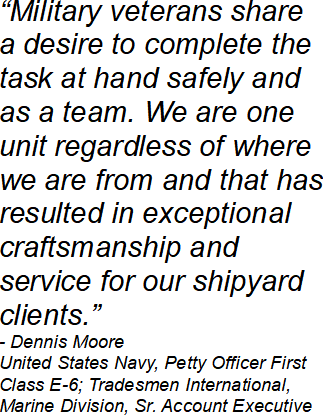 How has Tradesmen attained such a large percentage of veteran employees? "As part of our on-going diversity and inclusion initiative, we've always worked to add vets to our field and office teams," said McClone. "When our recruiters receive a resume with noted military experience, the natural reaction is always positive based on the good experience we've had hiring other vets. Those individuals were interviewed and asked to join our team upon completing the stringent face-to-face vetting process all our candidates go through."
Tradesmen International now has an even more aggressive veterans hiring initiative under a program called We Are Veteran Stronger. "With the skilled trade shortage so critical, we're actively seeking out veterans to apply for craft professional positions," said McClone. "We regularly post openings on 32 military-focused job boards, participate in veteran job fairs and promote career openings to vets on social media. Our referral program outright asks our thousands of employees to introduce us to friends and family members who served in the military and are looking for work."
"The phrase, 'We Are Veteran Stronger,' is a resoundingly true statement," said McClone. "Essentially, we find our veteran, reservist and guardsmen colleagues make Tradesmen International stronger because of their exceptional work ethic, emphasis on quality, respectful nature and leadership qualities. While I'm not comparing jobsite dangers with what our troops experience on battlefields, our vet employees not only emphasize personal safety, they make sure those around them are properly protected, wearing the correct PPE, being tied-off, etc. I firmly believe this is part of their military make-up; we love them even more for it."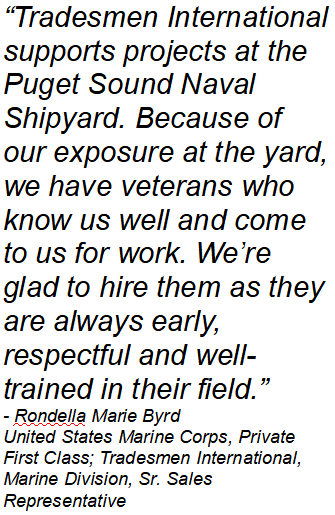 It is not always easy for veterans to equate their military experience and skillsets to civilian job requirements. Tradesmen reduced this challenge by adding the "Military Occupation Code Crosswalk" to their Veteran's Career Site. Veterans simply need to type in their MOC code and the system automatically suggests the best matches for their military skillsets to Tradesmen's job openings.
Tradesmen vows to build upon their new veteran hiring initiative to grow their pipelines of shipfitters, marine electricians, joiners, blasters and other marine trades and office personnel. "We are now setting more aggressive veteran outreach goals for 2018 and beyond," said McClone. "We're honored to work alongside these heroes who protected or continue to protect our freedoms."
If you're a veteran (or the spouse of a veteran) and looking for a stable career, visit Tradesmen-Veterans.jobs. For more information on Tradesmen, please visit www.tradesmeninternational.com.
The opinions expressed herein are the author's and not necessarily those of The Maritime Executive.